With the best people, processes, and machinery, we produce tighter dimensional tolerances, consistent quality, and better finishes for even the most complex extruded aluminum shapes. Two state-of-the-art, 8" aluminum extrusion press lines, and a high-efficiency quench system enable us to meet the most demanding industry requirements while achieving higher production volumes.
Whether you need a custom heat sink, t-slot, or one-of-a-kind extruded aluminum shape, our Engineered Extrusions team can help you save time and money every step of the way. From design for manufacturing (DFM) support to aluminum fabrication and CNC machining to parts assembly, packaging, and fulfillment solutions, we strive to help our customers improve their manufacturing process and bottom line.
MMG's Aluminum Extrusion Capabilities
Extrusion Presses
2,920 ton, 8-inch diameter press line
2,750 ton, 8-inch diameter press line
Alloys
1350, 6005, 6005a, 6060, 6061, 6063
Extrusion Weight
0.125 lbs. per ft. up to 7.00 lbs. per ft.
Quenching
High-pressure air and water quenching
Tempers
F / T4 / T5 / T52 / T6 / T6511
Profiles Extruded
Solid / Semi-Hollows / Hollows / Multi-Hollows / Heat Sinks
Custom Aluminum Extrusion Gallery
Aluminum extrusions offer designers endless possibilities to create the shape they desire and integrate multiple functions into one profile. Custom extrusions can easily incorporate built‐in hinges, screw bosses, receptors, and grooves, and can integrate assembly options such as a built‐in dovetail, snap-fit spring, and slots. Here are some examples of custom extrusions we produced.
Custom Accessory Rack
Our customer, a large sporting goods equipment manufacturer, had this accessory rack part originally produced in steel. Our manufacturing team was asked to replicate in aluminum and achieve the same strength requirements.
Custom Bracket
Our manufacturing team worked closely with the customer's design team to make this custom bracket more manufacturable, reduce its production costs to fit the customer's budget, and greatly reduce lead time for tooling.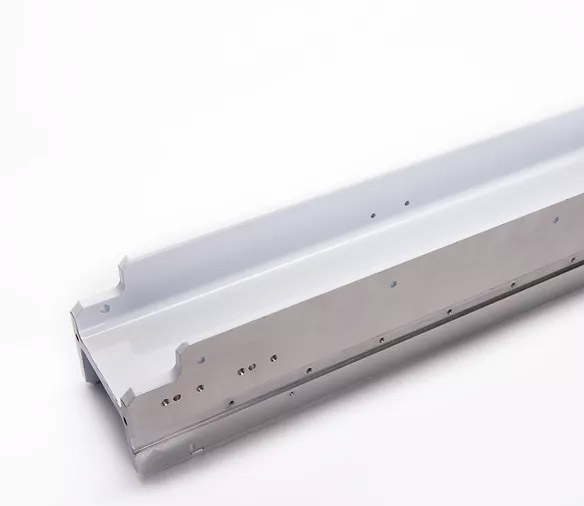 Linear Guard Rail
Thanks to our large bed CNC capabilities (144" x 72" Komo and 120" x 60" Haas Gantry machines) we were able to produce this linear guide rail to the customer's specific requirements.
Linear Guide Rail
This linear guide rail is a great example of how extrusion and fabrication tolerances interact in the manufacturing process.
Custom Roof Rack Rail
This component, which we extruded, cut, stamped, formed and powder coated, is an integral part of our customer's popular roof rack system.
Custom Heat Sink
Extruded aluminum is one of the most popular and cost efficient heat sink methods. This custom extruded heat sink was anodizes, which slightly increases radiation of heat.
Custom Heat Sink
We produce many custom heatsinks like this one for use in electronic devices and lighting products to keep components cool.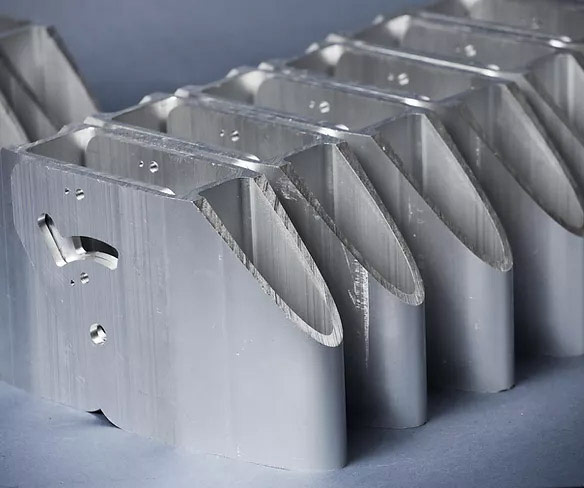 Custom Hinge
For this custom hinged component, part of an automobile bicycle rack, we extruded, cut, mitered, stamped, machined, welded and powder coated for our customer.
Custom Bracket
This custom component was extruded and machined for use as part of a bracket system to hold an antenna.